Distinguished Gentleman's Ride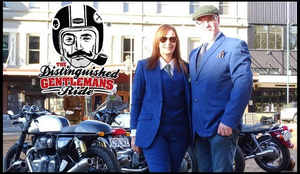 Dunedin is officially taking part in the world's largest and most stylish charitable motorcycle event on Sunday, May 21st, 2023.
Join hundreds of thousands of dapper gentlefolk riding stunning motorcycles on the same day around the world for men's health.
The goal for 2023 is to raise awareness and $6m USD for prostate cancer research and men's mental health on behalf of charity partner, Movember.
All riders must be registered at The Distinguished Gentleman's Ride website to view local ride details, with details are to remain confidential.
Fundraise and be rewarded.
It's that time of the year when tens of thousands of Distinguished Gentlefolk in hundreds of cities worldwide press their tweed, don their cravats, tweak their moustaches, and sit astride their classic and vintage styled motorcycles to raise funds and awareness for men's health; specifically prostate cancer research and suicide prevention.
The date this year is Sunday 21st of May. Please register now and raise some funds by getting your mates to sponsor you.
Dunedin ride registration: https://www.gentlemansride.com/rides/new+zealand/dunedin
Bike style guide: https://www.gentlemansride.com/about/style-guide
Facebook event page: https://www.facebook.com/events/919621612698525
2022 DGR clip: https://youtu.be/UCgcY67s3zQ
Many thanks to Larnach Castle for providing garden access once again.