Introducing Tommy Thöring's custom Royal Enfield Himalayan, '#38'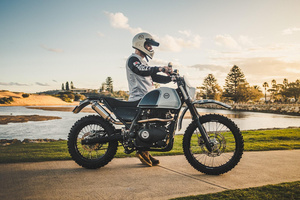 With the Royal Enfield Himalayan gaining serious popularity with custom bike builders around the globe, it's proving to be one of the best bikes of choice to express creativity.

Built by Tommy Thöring, who builds under the name of 'Schlachtwerks', 'he describes his 2020 Himalayan as a 'Classic Enduro', but he just calls it #38, as it's the 38th custom bike built by Schlachtwerks. Tommy uses #38 as his daily-rider, and to escape into the bush on weekends. With a new found passion for riding the fire trails and tracks around the outskirts of Sydney and beyond, #38 is kicking up a dust storm with every new adventure. Its debut ride was into the Gold Coast Hinterland around Byron Bay, where Tommy well and truly put the bike through its paces.
Originally from Frankfurt, Germany, Tommy now works with Surfside Motorcycle Garage in Brookvale, Sydney. Tommy describes Surfside M/C as a 'Classic Motorcycle workshop', one that actually builds bikes as well as selling and servicing them.

The inspiration behind #38 came from the Enduro bikes of the 80's. He later stated that the hardest part of the build was trying to lose weight off the bike as it's already light, but sourcing the parts during the covid-19 pandemic proved difficult.
Parts used to create #38:
Pair of custom aluminium wheels: aluminium hubs with 1,85x21" and 2,15x18" (tyres 90/90-21 &120/90-18)
Royal Enfield touring bar
MotoGadget mini speedo
Classic Enduro headlight unit
SW hand built aluminium front mudguard
SW hand built aluminium rear guard
SW taillight
Modified Royal Enfield touring seat and flat rack
SW stainless steel exhaust
Carbi re-jetted
YSS rear shock
Weight with full tank: 160.5 kg