MCR Training Days - what are they?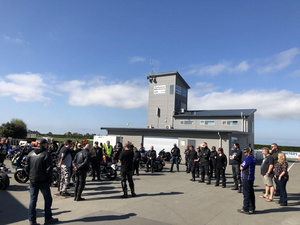 MCR in association with Two Wheels Unlimited run several training days per year.
We run these with 2 trainers at the Levels Race track in Timaru. An ideal day to get to know your bike and gain riding confidence in a safe environment. Using a closed circuit allows riders to practice different skills on the same set of corners repeatedly, the surface remains constant and there are not the same unforeseen hazards you would encounter on the road.
We cater for all levels of ability – from learners (already having a learner licence is required) right up to riders who have been riding for 40 plus years. From the feedback we get, even very experienced riders gain something from these days – we even have customers who attend every day we run. These days are limited to 30 riders to enable us to spend time with everyone.
The day starts in the classroom (clubrooms) with a bit of theory, then we split into 2 groups (less experienced/more experienced) and spend 15 minute sessions on track with a trainer and often have some very experienced riders assisting too. Then its back to the classroom, and back onto the track.
The day begins around 8am, a healthy lunch is included in the day around noon and we finish up around 3.30-4pm
Normal road riding gear is required for the training day – helmet, gloves, jacket, trousers and boots. Please, no jeans or sneakers.
WATER – Please make sure you bring a water bottle; you can fill these at the track. It is important to stay hydrated.
The training day will be held whatever the weather so please ensure you have suitable rain attire. The day is suitable for all types of road motorcycles. As it is a road training day, no race bikes are permitted. Bikes must have a current WOF and registration. No overly loud exhausts permitted. No exceptions!
If you're keen to do one of these days, contact us to check on the next date or check out our events page.