MCR giving you an electric choice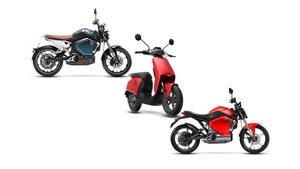 At MCR we're all about giving our customers choice – and now you can choose to ride electric.
We have recently taken on the Super Soco brand of Electric Bikes. These machines not only look great, but get down to business too!
Electric motorcycles are everywhere in China, and they're not viewed as toys for adrenaline junkies. They're viewed as cost effective urban transport, and that's exactly what Super Soco is delivering here. There are 3 styles in the range - wrapped up in a super sweet looking naked bike, café racer, or scooter looking package.
Riding the Super Soco range is scooter-simple. Twist and go, front brakes on the right lever, rear brakes on the left.
Under the pop-up tank lid, there's a small wallet-and-phone sized storage area, and if you lift the bottom out of that, you get access to the battery box (or boxes; you can fit a second battery to double your range). These batteries can be unlocked with the bike key and lifted out, meaning you can take the battery inside to charge the bike if you can't get it close to a power socket. That's a great touch.
At $3990 for the TS model, it certainly comes in as very affordable particularly when you remember it'll need almost no maintenance and cost you next to nothing in electricity. They can all be ridden on a car licence and are registered as a moped.
We have demos available for test rides, so if electric is your thing, or you are looking for an inexpensive commuter with little to no running costs, that also gives you free parking then look no further and get in touch today.