MCR sponsoring another rider - Cole Scammell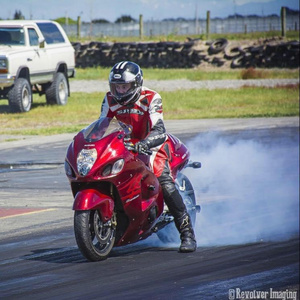 Cole has been a long time customer of MCR and a DRS member since 2017. We have been watching him over the last few years and recently offered him the opportinity to become a member of the MCR sponsored riding team. While Cole doesn't ride a Yamaha (there's still time) the MCR brand likes to encourage and assist those keen to give it a go.
Cole races motor bikes, mostly drag racing but also moto cross, motard, hill climbs and track days all over the South Island, he collects and restore motor bikes and have had an interest in anything with two wheels since he started riding at the age of 7. Cole is lucky to be very supported by his partner Tash and while she is his number one fan, she also does a great job of his social media, documenting his achievements with plenty of pics and videos at events.
Coles main passion is Drag racing -flying down the track on his custom built Hyabusa and was very successful at the 2019 Burt Munro bringing home a first place.
Keep an eye on what Cole is up to on his Cole Scammell Racing page https://www.facebook.com/Cole-Scammell-Racing-105331214182367/
Welcome to the team Cole.