METEOR 350 - From $7490, enquire today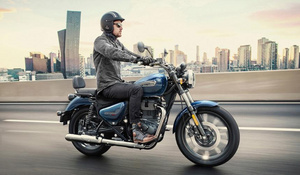 METEOR 350 - From $7490, enquire today
Cruise Easy – Cruising, that holy grail where the rider becomes one with the machine, the terrain and somehow becomes free from the act of riding, primed to soak in the surroundings. The Meteor represents that eternal essence of riding, the spirit of the cruise; with classic contours & timeless design cues, it is an easy thoroughbred cruiser, ready for the open highway and for meeting the challenges of urban commute with equal ease.
A REFINED GLIDE
With an enhanced chassis setup, accessible riding position, advanced braking ability, high specification suspension and responsive power delivery, the Meteor 350 is set to light up the world of cruising. It's agile, light handling is a result of hours of testing and development culminating in a new chassis that is stronger, stiffer and more durable without compromising on rider comfort.
TRIPPER NAVIGATION.
The Meteor 350 features a Tripper™ navigation system, the first-ever in a Royal Enfield. Powered by Google Maps and the Royal Enfield App, that connects smartphones with the motorcycle through Bluetooth. Tripper is a sophisticated navigation solution, rich in features specially developed for motorcyclists, that indicates directions through an intuitive display system. Combined with a host of facilities on the Royal Enfield App, including a USB charging port on the motorcycle.
J SERIES
At the heart of the Meteor is the J series Air-Oil Cooled, 349cc, SOHC engine with a characteristic long stroke producing smooth tractable power and plenty of bottom-end torque. The electronic fuel injection (EFI) system provides reassuring power delivery right from the start, consistently throughout the rev range which ensures a unique performance. 27 Nm of torque @4000 rpm. Maximum Power 20.2 BHP @6100 rpm. 5 Speed constant mesh gearbox.
Ride unhurried
If you seek a quiet, unhurried ride on an open highway, the Meteor 350 is for you. It is the definitive cruiser that makes you feel at home on the highway, bringing you closer to open skies and a life made for leisure motorcycling.