Making dreams come true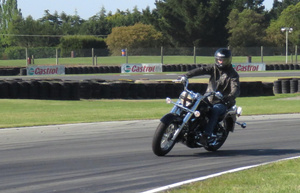 Below is an email we received from a customer - brings a smile to your face when you can be a part of making dreams come true!
"Rick and Rachel, I am technologically challenged, so thought I could at least e-mail you my experience at MCR. I am still working a way to get the facebook thing sorted so I can post this on your site.
I just want to share my experience regarding the MCR team. I recently purchased a Yamaha 650 from MCR and as you would expect from any good business, the standard of sale and service are exceptional from the whole team. They are knowledgeable and helpful with everything from the bike to the gear and beyond.
This however, is not the reason for wanting to voice my experience.
It is the incredible amount of time and effort Rick and his team spent helping me realise a dream.
I had an accident many years ago that significantly impaired my right arm function. While this did not stop my desire to ride, the reality of my situation meant that actually being able to ride was almost impossible.
I refused to let the dream die, though, and spent the best part of the last few years, trying to come up with solutions that may let me ride again. I tried many different avenues, motorbikes shops, automotive engineers, agencies. None could help. Most in fact said that it was too hard and that they didn't think it could be done (or at least they could not do it). Of the motorbike shops in Dunedin, only Rick at MCR said "let me think about it, and I'm sure we will find a solution"
And that he did. He got to know me and my limitations and he spent a long time discussing and trying different options. And all the while he was up beat and adamant he would get me riding again.
Rick delivered my bike to me 6 weeks ago and I'm now riding as often as I can, including attending an excellent training day organised by MCR at Levels Raceway this past weekend. The changes he made were simple and effective, but have allowed me to fulfil a dream that I thought was all but over.
It is this that make me regard Rick and the team at MCR so highly. They do not only provide great service, but they get to know you and your needs and go well above and beyond to make you sure they can do everything in their power to realise these needs
I regard Rick and the team with the highest respect and gratitude
James McCormick"