Paul Nixon Memorial Endurance Race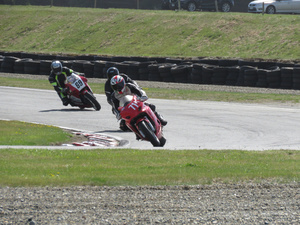 Wow - what a weekend!
The MCR race team had a great day out in Invercargill at the Southland Motorcycle Club's Paul Nixon Memorial Endurance Race. We experienced a few classic race bike issues, with fuel pumps and oil seals (bugger!!) but luckily, we had the trusty R6 track bike as a back-up.
There were 2 Paul Nixon races, lap times over 1.10 and under 1.10.
In the under 1.10 race Rick managed a 3rd on the R6, against much faster 1000cc bikes which was a great effort. In the over 1.10 race Justin scored a first place on the R6 (his first race win so needless to say he's stoked!) with Monty on his 750 in Second place and Regan managing a 5th on his 400. It was a great day in the Southland sunshine, with plenty of banter.