Pics from the OMCC have a go day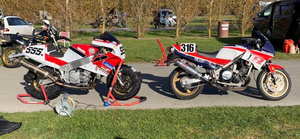 A few images from the OMCC Have A Go day in the weekend. Thanks lIam for sharing your photos.
A good day was had by all, and we're pretty sure there will be some lobsters around today. Thanks to the OMCC club, medics, flagies, and officials - we all appreciate the work that goes in to hosting these evets.
https://drive.google.com/drive/mobile/folders/1vZl5ODzAafu1yyUjfH-MRkObKY1m3zIz?usp=sharing