Welcome to the Royal Enfield Family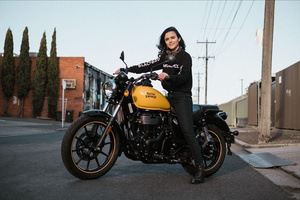 Royal Enfield New Zealand is pleased & excited to welcome Annette Eldridge to the Royal Enfield family!

Netty was first introduced to riding when she was a young girl by her father. She would ride around on her pee wee 80 in rural Victoria where she grew up. As well as being an active motorcyclist (check out @adventuresofnetty on Insta) Annette, or Netty as she is more widely known, is a professional cellist with a unique specialisation in improvisation and looping with electronic elements.

Annette completed a Bachelor of Music and Bachelor of Teaching at The University of Melbourne, and can draw from her performances Australia wide alongside an improvisation course that she attended in Italy. Under Annette Eldridge Music, she has released original cinematic tracks - heard worldwide on radio, Spotify and Apple Music. While keeping busy with her music, Netty is also a keen photographer, taking her camera wherever she goes on her adventures and shooting for a range of fun clientele.

Royal Enfield New Zealand looks forward to sharing Netty's motorcycling journey as she gets acquainted with her new Meteor 350 cruiser.
To get a Royal Enfield Meteor 350 in your garage, get in touch with us today Call 034770366 or email sales@mcr.co.nz