Women Riders World Relay - Christchurch to Invercargill 10 Sept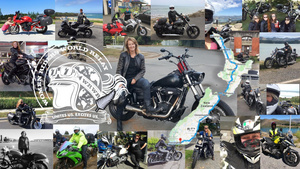 The time has come to invite you to the most exciting gathering of women bikers to hit NZ as part of the Women Riders World Relay. Will you be there? 4 days, 2000kms, 100s of women bikers from the far north to the deep south. Laughs and fun guaranteed. We want our sisters from the east and west to come across and join us down the main state highways. We wish for every women rider in this country to be there, new riders, seasoned riders, big bikes, little bikes, trikes and anything in between, you are all hugely welcome. Join us for a day or two or join us the whole way. Will you be at Waitangi for the Karakia as we head on our way? Or will you be at the grand finale event down south? You choose. So much more to tell you but all will be revealed over the coming months. The route is as follows...

Day 1. Waitangi - Hampton Downs - Taupo - 7th of Sept 538kms
Day 2. Taupo - Bulls - Wellington - 8th of Sept 373kms
Day 3. Wellington - Kaikoura - Christchurch - 9th of Sept 437kms
Day 4. Christchurch - Oamaru - Invercargill - 10 of Sept 607kms



Please share this 4 day event to every women rider you know in this country – Come on NZ let's make our roads ROAR!

***
First you will need to join the main WRWR page...https://www.facebook.com/groups/WomenRidersWorldRelay/ as this event is linked to the WRWR page and then make sure you confirm you are interested or going so you receive the info as it comes in. You may have to look back at some of the older posts on the discussion board to find out info or feel free to ask away.